You will be please to use the latest version of CJ-Datafeed.
I redesign the admin interface to take advantage of the WP functions to display nice form and user messages. I implement some security features too. I now use the function "nounce" that WP provide to prevent malicious access to CJ-Datafeed forms.
I fixed several bugs in the post import loop. I also fix the categories creation and timestamp for future post. It's was very ugly … I lacked WP knowledge when I first wrote the code. Lucky you, I'm getting better everyday !
I'm now trying to implement what I learn from my new book Professional WordPress Plugin Development
. It's a real must have for serious WP coders. I should have this one earlier…
WP Multisites is still not supported but it will be soon. I had to fix the upload process to support MU installation.
Coding and fixing things is time consuming, your support is vital. If you are a active user and enjoy CJ-Datafeed, don't forget to share your success with a donation.
WP Rules !
I finally did major updates and corrections to the create post function.
Categories creation was my nightmare but I finally manage to code it cleanly. Getting back to my ugly code and fixing it, required me some time. It was a challenging one but it worth the effort.
I now try to follow WP coding rules and recommendations as much as I can.
Thanks to my new book
Dear CJ-Datafeed users,
You will be please to know that I'm actively working on CJ-Datafeed v1.5 from this past couple days. I just finish the new admin interface. I'm now looking to core functions to fix some bugs that you experience and report.
Lots of stuffs is on the grill to improve the CJ-Datafeed experience… be back for more…
FYI
Objective to release v1.5 -> 2-3 weeks
I receive my new book yesterday ( thanks to super fast shipping ! ) and I already read the first 2 chapters.
This book is written by the guy's who wrote WP and or contribute to it.
And WP founder Justin Tadlock
Preface is written by Joost De Valk
As expected, this is the book I needed to push forward my skills and understanding of WordPress structure.
It already answer lots of questions and give me new ideas.
Stay tune for more
I already own some how-to books for dummy's but I needed something more resourceful.
I just ordered Professional WordPress Plugin Developement
ISBN :978-0470916223
from Amazon.
I can't wait to receive my new hand book.
Technologies goes fast, need to keep the pace !
The following items were included in this shipment:
---------------------------------------------------------------------
     Qty                           Item        Price Shipped     Subtotal
---------------------------------------------------------------------
       1  Professional WordPress Plugin   CDN$ 33.85     1   CDN$ 33.85

Sold by Amazon.ca, Inc - taxed
---------------------------------------------------------------------
                          Item Subtotal: CDN$ 33.85
                  Shipping and handling:  CDN$ 0.00
                              Total Tax:  CDN$ 1.69
                                    GST:  CDN$ 1.69
                                    PST:  CDN$ 0.00
                                  Total: CDN$ 35.54
                           Paid by Visa: CDN$ 35.54

---------------------------------------------------------------------
Google Analytics provide tons of useful information about your website visitors. Google offer this services for free. All you have to do is open a account here :
Once your account is created, you can start adding your websites to analyse. Google will provide a single code ID for each websites you want to track.
To track your WP website, install  Google Analytics For WordPress and copy your code ID from your Google Analytics account in the plugin admin.
That's it, one cut and paste and it's done. Google will start logging your traffic and 24hours later, have your first analytics results.
Google Analytics Dashboard it's a optional WP plugin that will display visual traffic info into your WP admin panel.
Theses plugins does not  interfere with CJ-Datafeed
I just implement a new delete function in CJ-Datafeed v1.05. You can now delete posts by specific advertisers. This is very useful when a advertiser get expired from CJ.com. You can also use this new function to purge low conversion program from your website.
Download CJ-Datafeed v1.05 Here
Stay tune for more !
Simple question but crucial : Where do I get datafeed file ? Datafeed is a text file with thousands of products descriptions and embedded affiliateID links for you to publish and receive commissions from your sales. Best of all, it's free. Remember, in the past you had to pay 250$ just to get access to those datafeed. Datafeed is a true goldmine for affiliates.
Login to CJ.com -> Account -> Services -> Create Product Export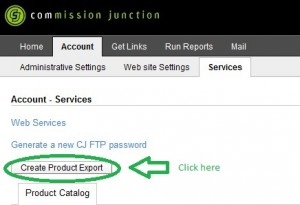 Export Datafeed Separated With PIPE "|"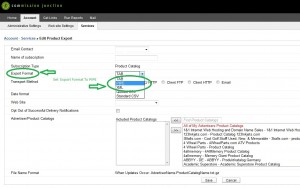 CJ-Datafeed plugin feature a template system. Using HTML and special plugin tags to build your post from datafeed file.
You have to upload a valid datafeed file first. Datafeed is a text file fill with data separated with columns and rows. CJ-Datafeed only support cj.com datafeed file columns separated with "|" (PIPE). You can use example file ( Thinkgeek products ) find within plugin upload page.
Each datafeed file didn't have the same data column fills. Hit preview button in template page to see which data is within the first file row. You can call column data via special TAGS to build post title, content, categories and tags. Theses special TAGS all start with CJ_SOMETHING. Available tags are listed in template page buttom.
You can reset template by empty form and hit update button.
See this video, sorry no sound.