I just implement a new delete function in CJ-Datafeed v1.05. You can now delete posts by specific advertisers. This is very useful when a advertiser get expired from CJ.com. You can also use this new function to purge low conversion program from your website.
Download CJ-Datafeed v1.05 Here
Stay tune for more !
If you use CJ-Datafeed plugin, you sure need a custom theme for your CJ affiliate website. Artisteer enable you to create professional looking WP theme the easy way. Artisteer software is the reference for auto theme generator. Artisteer it's sold for few bucks, less than a theme you need to create or buy. Full package include theme generator for others CMS like Joomla. I didn't need thoses so I purchased the basic version able to generate only WP themes ( about 50$ US). Don't be a jerk by trying to hack this nice software. It's so cheap for the power you get from it. You can resold generated themes and repaid your investment ( a joke ) in no time.
#1 WordPress Theme Generator. Instantly create great looking and professional WordPress Themes.
You can try Artisteer for free. Fully functionnal except than you will be unable to save you work and theme files will have watermarks on it. But you still can generate a theme and try it with WP before buying it.
Good news !
CJ-Datafeed free WP plugin will be rewrite by a professional software guy who is a good friend of mine.
All bugs should be fixed, and more options will be available for you to promote your affiliate content the easy way.
The work should be done in couple of weeks.
CJ-Datafeed v2.0 coming soon !
Be sure to uncheck the "Attempt to notify any blogs linked in from the article" option in WP-Admin->Settings->Discussion before importing datafeed with CJ-Datafeed plugin.
I tested it with my new CJ-API plugin that use the same "create_post()" WP function and it fix the false click problem that CJ affiliates experienced lately.
I didn't tested with CJ-Datafeed yet ( I'm 100% busy with CJ-API ) but it should fix it.
I plan to release a update to uncheck this option automatically before importing new post. Check for CJ-Datafeed v1.05 coming soon

I get tired of my previous WP theme. No problem, I just launch my Artisteer themes generator and in a few clicks, I build a nice WP theme.
I changed layout to 2 right sides bar, changed background image, fonts, theme color, save it and export. Et voila ! 20min total effort.
You can download Artisteer for free to try it out.
You will be unable to save your work, export files will be watermark but it's fully functional for evaluation.
Simple question but crucial : Where do I get datafeed file ? Datafeed is a text file with thousands of products descriptions and embedded affiliateID links for you to publish and receive commissions from your sales. Best of all, it's free. Remember, in the past you had to pay 250$ just to get access to those datafeed. Datafeed is a true goldmine for affiliates.
Login to CJ.com -> Account -> Services -> Create Product Export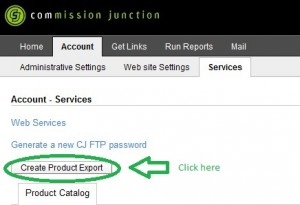 Export Datafeed Separated With PIPE "|"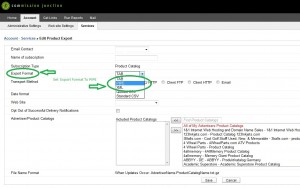 I just release CJ-Datafeed v1.04. This new version get rid of footer links that I added in v1.02 and fix the first datafeed row issue ( column description ). CJ-Datafeed now validate if datafeed row is in valid format before processing it, thank to kaspar for is nice input.
CJ-Datafeed have now been downloaded over a thousand of time ! I Hope you all success.
Hello folks, I use Artisteer to create all my WP themes. Hytekk.com theme is a example of Artisteer power. It support WP 3.01 with custom header menu and new widgets placement. For the price of a single WP theme, you can build, share or sale your work to the world. Best of all you can download it for free and try it before buying.If Artisteer sound new for you, try it now, it could be your theme problem solver !
#1 WordPress Theme Generator. Instantly create great looking and professional WordPress Themes.
CJ-Datafeed plugin feature a template system. Using HTML and special plugin tags to build your post from datafeed file.
You have to upload a valid datafeed file first. Datafeed is a text file fill with data separated with columns and rows. CJ-Datafeed only support cj.com datafeed file columns separated with "|" (PIPE). You can use example file ( Thinkgeek products ) find within plugin upload page.
Each datafeed file didn't have the same data column fills. Hit preview button in template page to see which data is within the first file row. You can call column data via special TAGS to build post title, content, categories and tags. Theses special TAGS all start with CJ_SOMETHING. Available tags are listed in template page buttom.
You can reset template by empty form and hit update button.
See this video, sorry no sound.